Used Colt Classifieds: Wagon, Hatchback, Vista & Turbo
Welcome to Dodge-Colt.com!
The Dodge Colt is a nameplate for a highly popular and long running subcompact car made by Mitsubishi Motors from the early 70s to 90s. The Dodge Colt was made as a station wagon, hatchback, coupe and sedan. Popular Colt model variants were the Dodge Colt Vista (follow link for details) made during the fifth generation (1984-1988) and models equipped with turbo engines made from 1978 to 1992.
One of the reasons the Dodge Colt remains relevant and popular today is because it is known for its performance in motorsports, specifically rallying. The Dodge Colt has traditionally been a popular base model chassis used for rally cars. This started in the 1970s and 1980s after the Colt placed third (3rd) in the Sno*Drift Rally in 1973 (1st annual), 1974 and 1982. Today nostalgic collectors and racers alike seek out the Dodge Colt for sale online.
Resources for the Dodge Colt are fairly scattered. Classified ads for cars, parts and accessories can be found on Craigslist, eBay and other sites. Information and racing builds, restorations and other spec data can be found in forums and other places. This website is designed to be the ultimate resource for buyers and sellers of Dodge Colt cars, parts and accessories. We will also provide relevant background information and links to important material on our Resources page. This site will be updated on a regular basis, so please bookmark and check back often. Please Contact us with any questions and thank you for visiting Dodge-Colt.com!
Dodge Colt Cars For Sale Browse Ads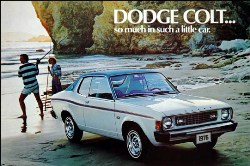 Nameplate History
The Colt was a captive import by both Dodge and Plymouth and besides being known as the Dodge Colt was also the Plymouth Champ and Plymouth Colt. Although very similar it was not identical in form and features. These models however were practically identical to the rear-wheel drive Mitsubishi Galant and Lancer cars made during the time before Mitsubishi moved to the more compact front wheel drive Mirage. While Dodge and Plymouth discontinued the Colt in 94 when they introduced the Neon, the Eagle Summit, which was a Mirage copy was still available in the US until 1996.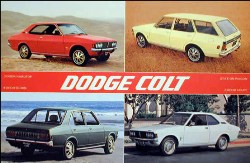 Dodge Colt Body Styles
Like many classic cars of the 70s and 80s, the Dodge Colt was available in several body styles. This included a 2 door coupe, 4 door sedan and various wagon and hatchback configurations. Today many car enthusiasts search for the Dodge Colt Wagon and Hatchback body styles for restoration and racing builds. To get more specifics on each configuration see our Body Styles page.
Dodge Colt Turbo
More popular than the Hatchback or Wagon body styles, the Turbo versions of any body style are the most sought after used Dodge Colt models. Two 1.6 liter inline four cylinder turbo engines were made available with the Dodge Colt during the fourth, fifth and sixth generation production which spanned from 1978 to 1992. To learn more check out our Turbo page.
Plymouth Cricket
The Cricket nameplate was used along with the Dodge Colt for Canada model years 1973, 1974 and 1975. This was replaced by the rebadged Hillman Avenger.
Vehicle Features
As stated before many rally enthusiasts seek Dodge Colt frames as the basis of a rally car build. However at face value it is worth noting some of the pros and cons of the later model stock Dodge Colt.
Pros
Braking
Fuel Economy
Handling
Cons
Acceleration (non-turbo)
Engine & Road Noise
Rear Seat Room
Because of the lack of performance out of many of the Colt's stock engines, many owners choose to upgrade the motor with aftermarket parts. This among many popular modifications including, suspension, interior and more are common on the Colt. Check out the parts page for more information.
New Dodge Colt
While the possibility of the reintroduction of the Colt nameplate to the Dodge marquee is possible, it is not likely, at least for the near future. This is primarily because of the reintroduction of the Dodge Dart for model year 2012. For all intents and purposes this is Dodge's entry into the compact car market and contender of the coveted fuel economy class. Be sure to check back and see if this changes though.