Colt GTS Turbo & Turbocharged GT Models (1984 - 1992)
Dodge Colt Turbo Introduction - 1984 (End of Fourth Generation)
The most popular used Dodge Colt cars for sale are the turbo models, especially the 1989 model year which was named by Car and Driver Magazine as one of that year's Ten Best. Originally introduced for model year 1984, during the middle of the fourth generation body style design; the Colt GTS turbo was introduced with two distinctive turbocharged engines. The fuel-injected 1.6 liter 4G32T model was brought exclusively to the North American auto market, while other parts of the world saw a 1.4L motor. The American Colt Turbo for this model year produced 102 horsepower and featured an eight (8) speed Twin Stick transmission with ventilated brakes in the front. This would be the engine used in the fifth generation turbocharged Colts.
5th Generation Colt Turbos
Fifth Generation Dodge Colt cars made from 1984 (model year 1985) to 1988 featured the previously seen 4G32BT turbocharged 1.6 L engine. This was a luxury four-door sedan labeled the GTS Turbo. Although many Dodge Colt enthusiasts have modified Colt Wagons to turbo, the original version never featured a turbocharged motor. Wagons during this gen did feature more powerful engines and would mark the end of the wagon body style for the Colt.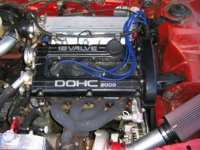 Sixth Generation (End of the Turbo)
This body style marked the end of the Dodge Colt turbo production run. The Colt however did not go out without a big bang. Unique for model year 1989, the Dodge Colt Turbo was equipped with a more powerful 4G61T turbocharged four-cylinder engine that produced 135 hp. This Colt GT Turbo was also distinctive because it featured sporty design elements such as ground effects and spoilers along with upgraded features such as special interior design, coloring, gauge cluster and power accessories. The following model year the Turbo was rescaled down to 113 hp and produced until 1992 when the 7th gen body style was introduced.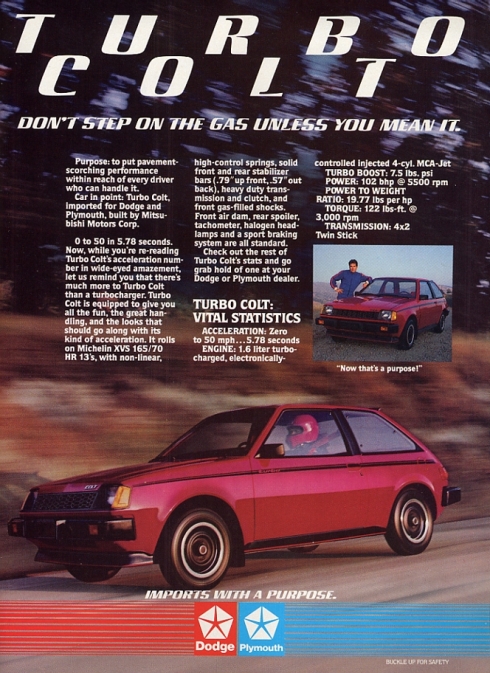 Original Advertisement For 1984 Dodge Colt Turbo
Dodge Colt Turbo Video
The video below shot by an owner of an original 1984 Dodge Colt Turbo gives an idea of the speed, maneuverability and handling of the car.
Although rare, sometimes Dodge Colt Cars are listed for sale on Craigslist. Be sure to check our listings pages to see if there is currently one available in the United States.