Dodge / Plymouth Colt Vista Overview
Welcome to the Dodge Colt Vista Page!
The Dodge / Plymouth Colt Vista also known as the Eagle Vista Wagon in Canada and the Mitsubishi Chariot, Nimbus and Space Wagon for international markets is a rare station wagon / van that was produced during the 80s and early 90s.
Although related to the Dodge / Plymouth Colt and Plymouth Champ in name, the Dodge Colt Vista is actually simply a rebadged Mitsubishi Chariot similar to the fact that the Dodge Colt was a rebranded Mitsubishi Gallant. These were captive imports of Mitsubishi Motors cars licensed by Chrysler for the North American automotive market.
The Colt Vista is a unique and rare vehicle that is a cross between a station wagon and van iconic of 70s and 80s automotive design. It is very difficult to find a late model Vista as only a handful are listed for sale at any given time. Besides the unique body style what also set the Colt Vista apart from the Dodge/Plymouth Colt station wagons was the larger more powerful 2.0 liter engine.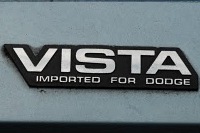 Vista Nameplate History
Although introduced during the beginning of the fifth generation for the Dodge Colt the Vista was actually a late introduction to the first generation Mitsubishi Chariot which was brought to market in 1983. In the United States the Vista was sold as the Dodge Colt Vista from model year 1984 to 1991 while it continued as the Plymouth Colt Vista for 1993 and 1994. In Canada it was sold as the Eagle Vista Wagon from 1989 to 1991 while in Australia it was known as the Mitsubishi Nimbus.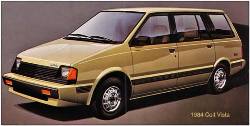 About Us: Dodge-Colt.com
This website has two primarily goals or purposes for being online. First is to educate car enthusiasts about the classic Dodge Colt Vista along with serve as a central hub for all information Vista related.
Secondly this website is designed with a North American classifieds section to display all current Dodge / Plymouth Colt Vista cars for sale. This includes aggregated current listings on classifieds sites such as Craigslist and eBay Motors along with listings posted directly to this website. Check out our Vistas For Sale page to see all current Dodge / Plymouth Colt Vista cars for sale in the United States and Canada. If you have a Vista to list for sale, please use our listings page by using the navigation to the right.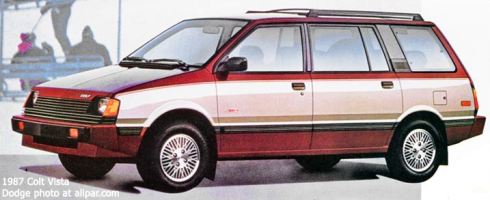 Disclaimer
Dodge-Colt.com is not affiliated with the Mitsubishi Motors, Chrysler Corporation or the Dodge marque. Additionally this site is not endorsed by Craigslist, eBay Motors or any other classified site mentioned on or linked to from this website. Trademarks and copyrighted materials are used here in accordance with the Fair Use clause of US copyright law. All ownerships rights to trademarks, brand names, images and photos are reserved by their respective owners.
The classifieds section of this website is provided as a buyer/seller resource with no guarantee of timeliness of information or the listings of all ads. Dodge-Colt.com is not involved directly in the sale of any vehicle, part or accessory. In addition, this website serves advertisements and these links are to third party websites that are independent of this website and not related in anyway. Should you have any questions bout this, please via our Privacy Policy and Terms of Use below or send as a message via our Contact Us page. Thank you for visiting Dodge Colt Visa!